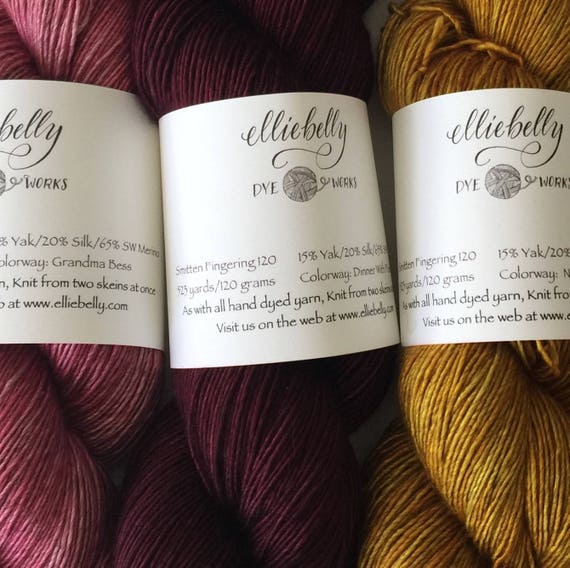 It goes without saying that we love a lot of yarn around here! So, I thought it would be fun to spend some time each week or so, talking about a favorite yarn and what we like to knit with it.
Smitten is definitely the right yarn to start out with.  It is, simply, luscious. It has Silk for shine.  The Yak in the blend magically turns every color I dye on it to perfection.  And the Merino content gives it a squishy disposition. Although you'll see a number of our favorite colorways dyed on Smitten and its other Yakky friends, Himalayan and Yak/Silk DK, I've also done a series of colorways that take advantage of the Yak and are unique to these blends.  You see three of them above: Grandma Bess, Dinner With Friends, and Nomad.
Smitten is a fingering weight yarn in 120 gram/523 yard put ups.  This means that for a most shawls, instead of having to buy two skeins, you will only need one. And the larger skein size works out well too, for sweater knitters. Smitten is a single-ply yarn, which best displays the 20% silk in the blend, but it's a surprisingly strong yarn-no problems with it breaking off.
My favorite sample project knit in Smitten is Lamassu, knit in the Llyr Colorway.
You can see how beautifully Smitten shows off the lace patterning.  And it wears very well.  Lamassu is my constant companion, and I wear it as much in warmer weather as when it's cool.
Although it can be hard to keep Smitten in stock, I've put more of it into the shop this morning.  In addition to the six colorways that are in stock at the moment, I've got two more drying, and they'll be in the store next day or two.  Although they are lovely alone, as in Lamassu, don't hesitate to mix and match.  These colorways work very well together.
Looking for something to knit out of Smitten? For shawls, I think Ebb Tide and Every Fiber of My Being are great choices.  Kea would also be lovely. Looking for a lightweight summer sweater?  The sleeveless Evening Calm top has been in my queue for awhile and would be perfect for Smitten. I'm also a big fan of Poetry in Motion, show here knit in Elliebelly 's BFL Cash/Silk.
Don't hesitate to substitute Smitten in any fingering weight pattern, except, for socks, where I don't think it would hold up well against the wear. Himalayan is a much better choice for socks.  But, for shawls, sweater, and accessories, Smitten is a fantastic choice.  I hope you'll try some out and let me know how you like it.  Looking for a color that isn't there?  I'm still developing the range of colorways for the Yak blends, so I would love to hear about anything you have in mind.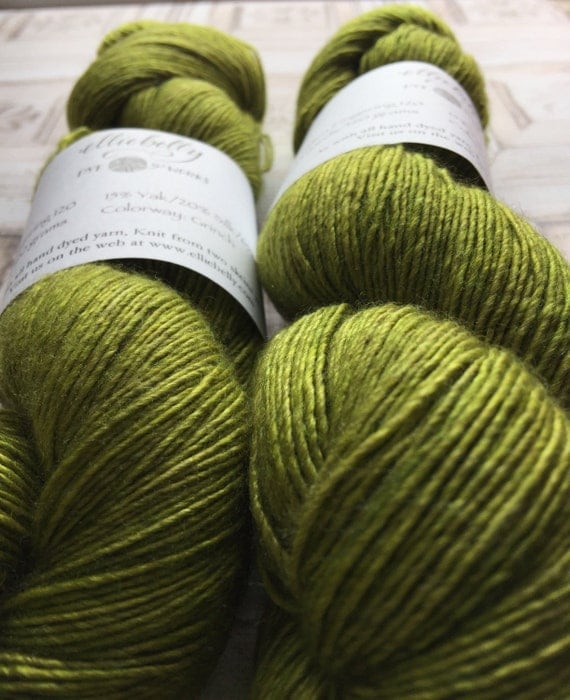 (Grinch)
Finally, many thanks to Dingus, without whom, it would have been impossible to stock the store this morning or write this blog post.  Isn't it amazing how cats always know when you are in dire need of their assistance?
Save
Save