If you've come here looking for the Yarn Giveaway, Click Here, to be take to that post.  Leave a comment by June 30 and be entered in the drawing!
I played around with some Blue Faced Leicester roving several months ago, using leftover, random dyes.  There wasn't a plan for it, just eight ounces of pretty wool that had never made it into a dye bath.  When it was dry, I asked Momofana on Ravelry if her spinning services were for hire, and indeed they were.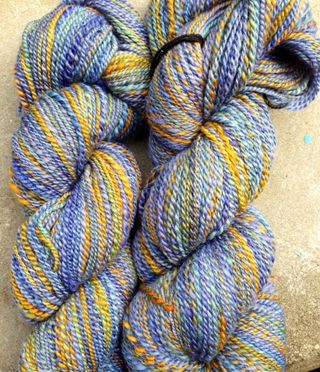 She is such a lovely spinner!  This yarn is everything that I could have hoped for and has a wonderful texture that goes from fingering to sport and should work to emphasize the colors when it is knit up.  The colors are unintentionally reminiscent of the tall garden iris in my front yard and the way they have been plied makes them exceptionally luminous.
This yarn is next in my queue, although I don't have a project in mind.  It would make a lovely infinity scarf or perhaps a hat and pair of mittens.  I can't wait to find some time to search for the perfect project that is worthy of this yarn!