Following up on yesterday's photo of the Elliebelly Crayon colorway dyed up three different ways, I've got some photos to give you an idea of how different approaches to dyeing give you nuanced results in your finished project.
(1) Handpainted – As you can see in the skein, this method gives you crisp color definition.  The colors are pure and saturated, without any toning because there is no mixing of the dye on the skein.
(2) Kettle Dyed – This approach gives you organic color transitions that blend from color to color as well as the ability to create "lowlights" in the yarn for projects where you want to tone the impact of the colors.
(3) Paintbrush – This method, which is the most labor intensive, randomizes color placement to prevent pooling and uses blending to create soft colors and a variety of hue and saturation.  Ashley's Clapotis is a great example of this yarn knit up.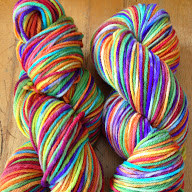 The differences are subtle, but understanding different yarns and how they are dyed can help insure you get the best yarn for your project.  Ultimately, I like all of them.