I'm really excited to be knitting with yarn from the Plucky Knitter this week, casting on my Olivia Wrap. (This was supposed to be my first project with Plucky Yarn, but I snuck in a Nevermind Hat last week, and I'm so glad I did!)
I'm in love with Olivia and I'm in love with this color — Holloway — with is the perfect teal.  I decided to do some swatching, even though it's not technically essential for a wrap, and I'm glad that I did.  In fact, it had several benefits.
In addition to helping with size, as you can tell from the three swatches above, one of my skeins is darker than the others.  The skeins looked pretty well matched, and I might have been tempted to skip alternating skeins had I not seen them knitted up.  I'll make sure to alternate in this project!
The pattern gauge for Olivia is 12 stitches over 4 inches.  I'm not concerned with row gauge here, since I plan to sling this around my shoulders over my coat, and that won't be criticial.  But I do want it to be big enough to wrap all the way around.
The pattern suggests using size 9 needles, so I started there.  I got 15.5 stitches.  Obviously, the more stitches in your project, the more the effects of having "bad gauge" throw off the work.  Here, with 189 stitches, I would transform the 63" wingspan of Olivia into a mere 48.77".  This seems odd, given that I'm a very loose knitter, so my problem is typically in the opposite direction.  And, although I'm using a different Plucky yarn than the pattern yarn, it's the same weight — they are both arans — so I would not expect a result like this.
Going up to size 10.5 needles didn't help much.  Here, my gauge was still 14.5 stitches.  My Olivia would be up to 52.13".  Theoretically I could continue to increase the needle size to try to bring my gauge into alignment.  When I first knit on the 10.5 needles, though, I thought the fabric was becoming too loose and drapey and had I not blocked my swatch, I would possibly have set the project aside.  But after blocking, the fabric was even and beautiful and perfect for the project.  It even looks as though I could go up another needle size.  Still, I'm not sure I can manage it — I'll see what a swatch on size 13 needles looks like, but I'm not optimistic.  More on that and one other possibility in a minute.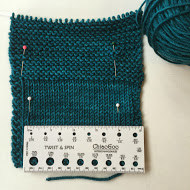 Because this is gauge week, I decided to round out my experiment by knitting another swatch on size 7 needles.  And, as expected, I got more stitches per inch, this time, 17.5 stitches in 4 inches.  This would give me a miniscule Olivia, of only 43.2 inches.  I have to confess that I'm rather partial to this fabric.  I like a yarn that is knit up tightly.  But the Plucky Primo Aran yarn looks wonderful on all three sizes of needles.  It's a fabulous, beautiful yarn, even if it is frustrating me a bit at the moment.
You'll notice this swatch is a bit different than the others.  A friend pointed out to me that this swatch is supposed to be over garter stitch (note to self:  read the d@mn pattern).  So I swatched in both stockinette and garter on the 7's, but unlink most knitters, I tend to get the same result in both stitches and that held true here.  Still, I think it's worth trying a swatch on the size 11 needles in garter to see if that gives me a bit to play with.  Since I did both of these swatches together, I may have pulled the sizing off.  Fingers crossed that a garter swatch gives me a better result.
Then there is this to consider: Olivia is written for an average size woman and I am only 5'1".  So a slightly shorter version may be okay in my case.  I'm also going to pull out some of my favorite wraps and measure them for length before deciding what to do.
If you've been reading along this week, you've probably noticed that, A) I'm not very good at getting gauge and B) The process of swatching seems to lead to more swatching and lots of indecision.  But I see all of this as progress towards getting finished objects that fit the way I want them to (and even, perhaps, some that actually fit my body when I'm knitting for myself).  Although the math makes my head hurt, it's worth knitting a few extra swatches and seeing the examples that make sense of the rules.
I'm going to knit Olivia.  I may have to do a few more swatches, measure some old favorites, and seek advice from some good friends, but I'm on it!