Every time I knit a pair of fingerless knits, they magically get adopted by another member of my family. I'm the only one around who is ungloved.  But this time, I'm knitting just for me!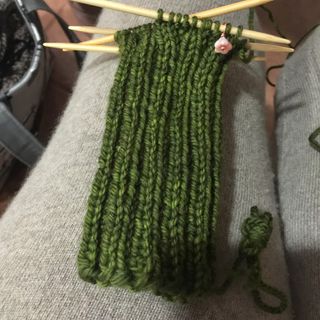 This is Churchmouse Fingerless Mitts in The Plucky Knitter Trusty.  The yarn is a pleasure to knit with and the color is fabulous.  I'm liking these so much that I'm hoping I have enough leftover to do a striped pair with this yarn and the yarn from my Betsy Blue Mitts.
This pattern is so simple and so functional.  You could probably manage it with any skein of sport, dk or worsted yarn.  It's quick.  It would make anyone happy.  Knitters everywhere should stop what they are doing and cast this pattern on.  It's just that happy of a knit!