Hands down, the best Christmas presents we received this year were handknit hats from our dear friend  Marguerite, a fun, intelligent woman, whose idea of a casual knit is a detailed Kaffe Fassett sweater.  She is an inspiration.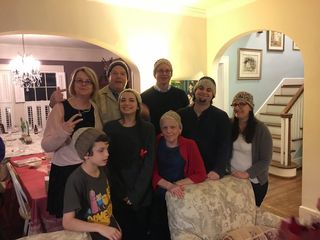 For Christmas Eve, she knit hats for everyone.  Seriously, everyone.  Hats for seven in my family and three in our close friends' family.  And she followed that up Christmas morning with hats for her daughter, my dear friend and colleague's, family of four, and I suspect the rest of her children and grandchildren as well.
Marguerite is an epic knitter.  I'm on the far right in the photo above in a colorwork hat with a kitty cat motif around the brim.  My Mom, below, has a similar motif on her hat.
Ellie has a hat and mitts.
And the gentlemen got stripes, like this.
Stephanie Pearl-McPhee once wrote, ""When confronted with a birthday in a week I will remember that a book can be a really good present, too."  Obviously, Marguerite laughs in the face of such kind, gentle advice and managed to knit a swarm of hats for this one Christmas.  What a wonderful way to make people feel the love in your heart.  I'm going to remember that for next Christmas.