© Rowan Yarns, 2015
Glacier, one of the new patterns in Rowan 58, was exactly what I had been dreaming of, and from the moment I saw it, I knew I had to knit it.  Even though it's clearly a bit beyond my skill set.  Even though I was going to have to do all of that seaming up at the end.  Even though I fought to get gauge.
I've cast on the back and am working on the ribbing, a pretty standard K3P2.  The instructions suggest you go down two needles sizes for the ribbing, and that is typically really good advice if you don't want ribbing to look like loose strands of noodles (this would be the voice of experience speaking).  But, since I am already knitting a bulky yarn on size 7 needles to get gauge, and since I really like the fabric at this gauge, I decided I would use the same size needles for my ribbing.

MISTAKE! Note to self: I am a really loose knitter.  I shouldn't freak out about the fact that I knit on much smaller needles that virtually anyone else in the online knitting universe.  It's what I need to do to get gauge.  Perhaps I am just a very R-E-L-A-X-E-D person and it comes through in my knitting?  But, whatever the reason, my ribbing on size 7 needles is just plain sloppy.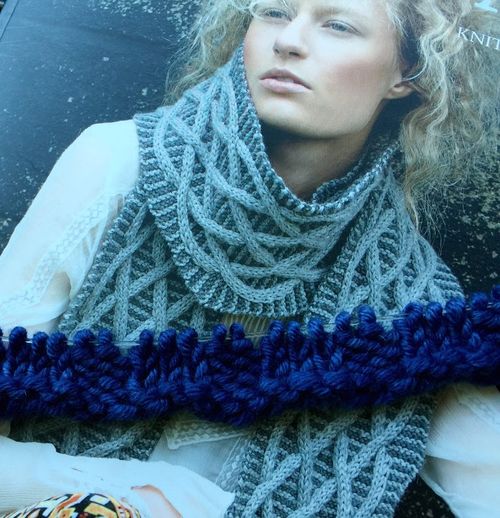 After ripping out all of the ribbing and starting over on Size 5 needles, here it is. (That's the cover of Rowan 58 beneath it).  Much better.  Not sloppy.  Glad to have made that change, because as it knits up further, I'm finding that it's big.  Hoping there isn't too much positive ease in the size small for me.

In other knitting news this week, it appears that I'm on track to finish the last square in the infamous, in progress just about forever, Barn Raising quilt.  I am happy and sad.  I think this may be my favorite square of all time, the Koigu yarn is crazy color perfection!