I wrote and knit this pattern in 2010, intending it to be the first of a series of simple, beautiful projects that would work well in Elliebelly Yarns, which I was dyeing at the time.  The original project page is here.  Life + Career took a radically different turn a few months later, and as most of you know, I stopped dyeing Elliebelly to pursue a public service opportunity.  And, I never wrote up the Big Cabled Afghan pattern.  I had good intentions, but because the yarn it was written for was no longer in production, it didn't make any sense.
Fast forward to last year when the Plucky Knitter release her Snug Bulky yarn, and I realized that in addition to finding the yarn of my dreams, the perfect yarn for the  Big Cabled Afghan was in front of me.  It hasn't been a fast or nearly as efficient process as I had hoped, but my sweet friend Helen, an outstanding knitter, took on the challenge of knitting the pattern in Snug and we have a pattern ready to be released into the wild.  I hope others will knit it and share their comments with me so that I can continue to enhance the pattern and provide additional advice on sizes and other details.  It's a simple, basic cabled pattern, easy enough for an adventurous beginner but the cables will keep the interest of a more advanced knitter.
I have plans to do a neutral version for our screen porch.
Here is the original version compared to Helen's lovely version, knit in Plucky Pup Tent.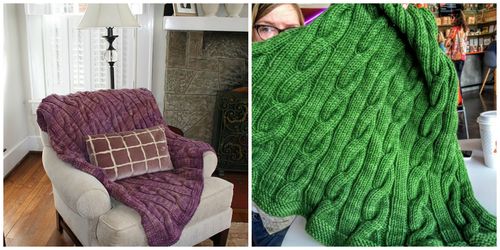 I hope you'll dive right in — I can't wait to see different versions of it knit up.  You can access the pattern on Ravelry or download it here.  Please let me know if you have any corrections, ideas, or pictures to add.  Happy Knitting!
Corrected Link to Download the Pattern