Happy New Year's Eve (or day, depending on where you find yourself at the moment). Before I head on out, I wanted to share a few last Elliebelly Yarn projects with you. Photos, compliments of my daughter who took a few quick snaps for me. When I looked at them, I realized I had selected four green projects. Perhaps that's an omen for the new year, but I can't think quite what it means, so I'll simply close out the year with a few last bits of knitting eye candy for you.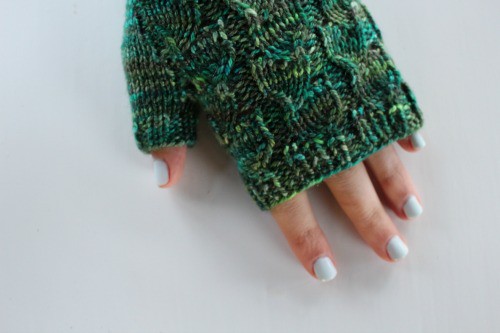 The pattern is Falberry Mitts and the yarn is Elliebelly Tree Wool Sport.  We love this yarn around here.  It's the replacement for the beloved Elliebelly Sea Wool Sock Yarn, a yarn we were devastated when the mill discontinued it.  But now, we like Tree Wool even better and have been knitting with it a lot.  These mitts give you a good idea of why it has become such a favorite.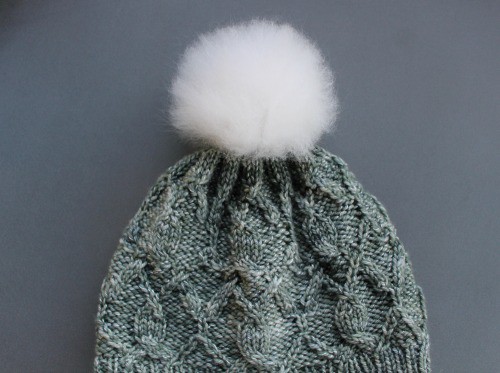 This is the Rob Roy hat I knit earlier this year.  It's the first time I've gotten a decent photo of it.  The bit of white fluff at the top is perfect with Lyric, one of my newest yarns.  You can see the projects knit to date with Lyric here.  It's a new-ish yarn, so there are only six of them, but wow does this yarn have pizazz!  This colorway is Catherine, Are You Weeping and it has become the new black in my wardrobe.  It goes with everything and it's a bit of a chameleon depending on what you wear it with.  I'll have this colorway on a number of different base yarns when we reopen.  I hope you'll think it's as special as I do!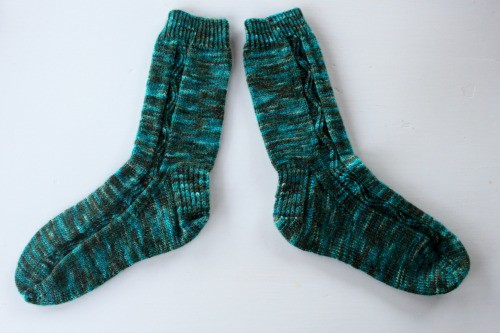 Zigzagular Socks were last year's Adventurous April KAL choice.  Turns out, this pattern is perfected with a variegated sock yarn and is also the boss with our Paint  Brush colorways (here's my sock from the KAL, knit in "Friends," a Paint Brush yarn).  These socks are knit up in the Verdigris colorway.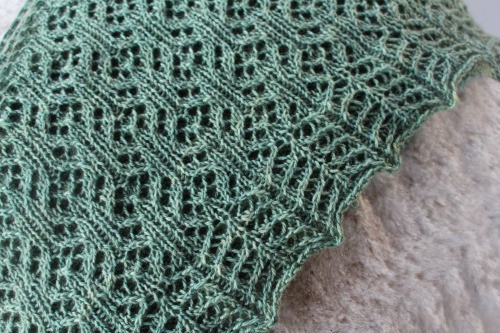 And finally, the Prince of Wales Shawl, knit in Angel Fingering (I really don't have a favorite yarn, but if I did, this would be it) in "Dido."  It's such a pretty shawl!  If you're looking for a fun lace project in the new year, this is one that is so wearable that you will find yourself reaching for it constantly.  And I think it would be a lovely, functional shawl in one of the merino sock yarns but also definitely worth having in something luxurious like this Alpaca/Cashmere/Silk blend.
That's my four green pieces for a cold, rainy new year's eve.  Perhaps the green choices must mean that I'm looking forward to a beautiful spring this year and lots of opportunity to sit outside and knit in my garden.  It's a wonderful idea, in any event.
Hope wherever you are, you are going to have a happy New Year and lots of beautiful adventures to look forward to in 2017.