I've been doing some dyeing for myself, as well as some for prizes at the close of the Adventurous April Knitalong.  I thought it would be fun — and helpful too — to show off the yarn and ask what you would knit with it if it came to live with you.  You can respond in the comments here or in this thread on the Elliebelly Group on Ravelry.
The first yarn is BFL Silk Sock — It's a 55% superwash Blue Faced Leicester/45% Silk yarn with 438 yards to the skein.  It's a fingering weight, and I've dyed two skeins of it.
The colorway is Strawberry Roan — inspired by our trip to Iceland and the "Little Horses" (we were told it's an insult to call them ponies) that populate the island. The Strawberry Roan horses were so pretty and particularly sweet.
Also inspired by our Iceland trip, this is the Gullfoss colorway on aran weight Blue Faced Leicester.  There are 183 yards in a 100 gram skein, and again, I've dyed two skeins.
Panda is a silk and bamboo blend, roughly 50/50 that has 150 meters to a 100 gram skein.  This is a new-to-Elliebelly yarn that I'm testing out for the first time.  I am very fond of the sheen so far — the yarn seems to glow from within.  There are two skeins of this and I wish I had dyed more as it would make a lovely large summer weight Clapotis for wrapping up on the beach at night or for movies in the park!
Pink Loves Brown is a classic Elliebelly colorway that I've dyed here on 8-Ply Coventry Cashmere.  Each two ounce skein has 130 yards, and I've dyed two in this colorway.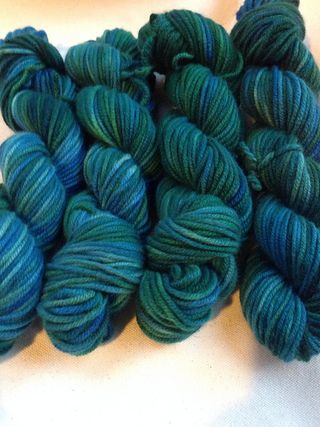 As yet unnamed, this new colorway was my effort to replicate some of the rich blues and greens we saw on our Iceland trip.  The three dye bath process was definitely worth it.  I've dyed four skeins of this colorway on 8-ply Coventry Cashmere, again with 130 yarns per skein.
Finally, another classic Elliebelly colorway, Lakehouse.  This is on aran weight BFL, with two skeins of 183 yards each.  It's been a long time since I dyed this colorway, and it took all the strength I could muster to avoid casting on with it immediately.  I love how the golden strands peak out from between the variety of blues and greens in this colorway.
So, friends and knitters, what would you knit with this yarn?  What patterns have you been dreaming over?  Inspire me.  Motivate us all.  It's so much fun to see different knitters' take on the same yarn!