I seem to be having a glut of "welcome to the new year, everything is going crazy" overtime at work and insanity with kids, but despite that, I did find a bit of time to knit over the weekend.  And especially, a big thanks to Downton Abbey, when everything in my house comes to a halt and I can knit and indulge.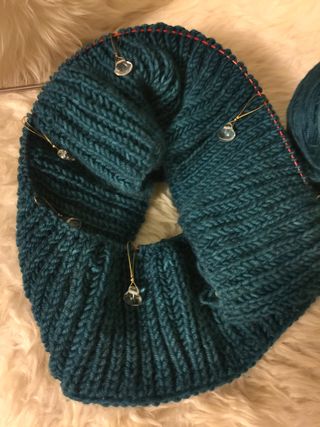 I devoted my knitting time this past weekend to Olivia.  Olivia is the first project I ever cast on in yarn from The Plucky Knitter.  It's Primo Aran in the Holloway color, a delicious teal.  This is the first time I've ever done a Fisherman's Rib, and the number of mistakes in this project (I've found the rib almost impossible to rib back and make corrections in) attest to my learning process.  Although it's slow, I've reached the point where I really enjoy it.  I'm about four inches into what needs to be seven inches of rib.  
For the next couple of weeks, I'll probably have painstakingly slow photos of "oh look, I've knit another half inch of Fisherman's Rib" to show you, so in an effort to make up for that in advance, I'll share this odd but intriguing cell phone video my daughter shot in her ballet class, because she knew I would like the music.  It's grainy and off kilter but really moving.  If you're interested, she comes in midway through in a black unitard with a white top and sleeves.  Yes, it has absolutely nothing to do with knitting, but imagine all the warm ups you could knit for those dancers, if you really put your mind to it!