We can't all be the girl who knits incredibly intricate Estonian lace in her spare time, producing immaculate shawls of haunting beauty.  And we shouldn't feel bad about it.
I love knitters who are accomplished and precise, and I enjoy celebrating their work.  But that doesn't, and shouldn't, in any sense take away from the accomplishments of new knitters, intermittent knitters, or knitters without time for larger projects.  There is virtue and integrity too in smaller, simpler, single skein projects.
My Redeux hat, pictured above, was a relentlessly simple knit that any beginner could finish in a day or two since it calls for a single skein of bulky yarn.  It has given me an enormous amount of pleasure, to say nothing of the warmth it leant my husband during our trip to Iceland.  It was easy, it was simple and it is red and beautiful.  I value this hat as much as any project I've ever knit.
Similarly, this Rainbow Twist Cowl is easy enough to be the perfect first attempt at cables for a knitter who has never done them before.  Plus, it has the advantage of color.  Anything knit with Malabrigo's beautiful Arco Iris colorway is guaranteed to become a cherished favorite.  Again, a quick simple knit that was infinitely satisfying and produced a remarkable result.  I know this to be true because my teenage daughter stole it away as soon as it came off of my needles and will not return it.  This must mean it is a thing of grace and beauty.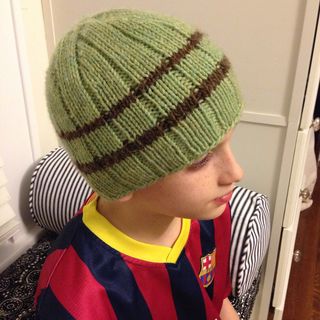 This is a basic ribbed knit hat, Rib-a-Roni, knit from a single skein with the addition of a few leftover scraps to form the stripes.  This hat brought me such a feeling of accomplishment.  I googled and mastered jogless stripes so that the joins look even.  The ribbing was meditative.  The recipient was ecstatic.  He is still wearing it in summer.
We all know that as knitters, there is a tremedous amount of pressure to constantly innovate our craft. And I like that.  Last year I picked up lacework for the first time and enjoyed the results. But there is a special virtue, and no shame in working with these easier, baby-bite sized kind of one-skein projects.  They take skill too.  We sometimes forget that to non-knitters, we all look like rocket scientists. Don't be afraid to turn off the pressure and enjoy a simple knit.