If you've come here looking for the Yarn Giveaway, Click Here, to be take to that post.  Leave a comment by June 30 and be entered in the drawing!
I am still knitting Citron.  I started this incredibly simple pattern on April 15, but somehow or another, I'm still plugging away at it.
In my defense, I now have 400+ stitches on the needles, and I've managed several other projects while I've had Citron in the works.  But it feels like I'm knitting in slow motion.  During the final show of VEEP last weekend, I only completed three rows.  I may be knitting Citron forever.  The picture above, of Citron midway through the fifth section, doesn't really look as though it has progressed since I was in the middle of the third repeat.  It must be a trick of the knitting.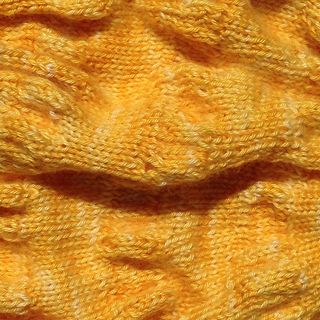 It will be worth it in the end, though.  It is so lightweight and airy!  The color is so, well, lemony.  My hope is to have this finished in time for Ellie's and my annual yoga retreat, so I can toss it around my shoulders at night when we go out for our last cup of tea.  It feels like it will keep any chill away without adding any oppressive heat in summer.  And it is undeniably chic.
So Citron can have her rows of 400+ stitches.  I am resolute.  I will finish her.  I will wear her.  I will be happy, chic, and sunshiney.  I love you Citron and I'm going to conquer you!