Wow!  That title is a mouthful!  Try saying it outloud twice in a row. And then, come and sign up to knit with us in September, when we knit for ourselves (that's the self-indulgent part) and end up with a pair of Soxies to keep us cozy during the cooler months.
First off, the winner of the yarn to knit Soxies with from the giveaway post earlier this week is Eileen, StormyMonday on Ravelry.  Eileen, pm your address to me on Ravelry and I'll get your yarn on the way to you with plenty of time to swatch before we cast on September 1.  Congrats!  Take a minute to check out Eileen's projects pages on Ravelry.  Among her great projects are some adorable little candle jar covers — I'm just itching to cast on and knit a few.  What a great idea!  We may need a follow on KAL to use up our yarn scraps, but I digress…
I hope you will come and knit with us for the KAL, whether you are a new knitter or an experienced one.  Soxie is a great pattern, and as I look it over, I realize it will let us learn or refresh skills we may not use a lot like the provisional cast on, be a relatively quick knit for a feeling of accomplishment, and yet retain our interest with the cables on the toe.  About those cables: if you've not cabled before, this is the perfect pattern to start with as it is a simple and well-explained cable and you will get lots of support from the experienced knitters among us.  I typically cable with a cable needle, but because this is just a few small cables, I'm going to experiment with doing them without the needle.  And although the pattern calls for a button decoration on the front, I can't wait to see all of the variations we come up with.  So join us for the KAL, which starts September 1.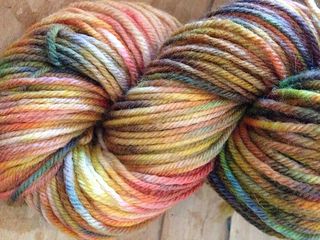 A reminder: in the Elliebelly group, you can use any yarn you would like for our KALs.  Because this is a one skein pattern, a lot of people will be using some Elliebelly "deep stash."  And, in addition to the skein Eileen has won, there is a bit available beginning tomorrow.
Come be self-indulgent with us!