Outlander knitting is suddenly everywhere.  And for good reason — as the weather turns colder, who wouldn't want a huge, chunky knit cowl to keep you warm?  There seems to be lots of demand on Etsy for all sorts of Outlander-wear and patterns are cropping up all over Etsy.
This cowl, my version of The Gathering pattern by Kalurah, is already in use by my Mom, as our weather turned cool over the weekend.  It was knit on size 35 needles, with Elliebelly Bulky Merino held triple stranded.
I also wanted to try knitting one on larger, size 50 needles.  I used one skein of Cascade Magnum to knit this one up.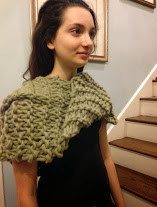 Although it is lovely, a sweet, teenage child seems to have claimed it, so I'm going to try a third for myself, double stranding the Magnum and going a bit shorter in length so it settles over the shoulders like a shrug.  Knitting with the size 50 needles is good brain candy, especially since I've got some lace on hopelessly small needles going on at the moment.
The Gathering pattern, as the other host of Outlander patterns cropping up on Ravelry, is simple and forgiving.  And like the issue is Scottish independence, what's old seems to be new again — these styles seem very of the moment and I have the feeling we'll see them worn everywhere before it's over.