Sweaters have always been a knitting nemesis for me, so let's just get it right out there.  I'm not a math geek.  It took me a long time to appreciate both stitch and row gauge.  I have a lot of bloopers in my knitting past (I'm thinking about you pint-sized Agnes that was meant for me and you Little Red, that looks to be turning out even smaller), although I've also had some successes.  Those were mostly despite myself or on baby sweaters.
So now we have Vodka Lemonade, the first of my post-self awareness about gauge sweaters.  Isn't it pretty?  That's the Plucky Knitter's Crew, a cotton and merino blend that feels great to knit with and that I'm convinced will be light enough for spring in Alabama. I've also become convinced that the color is a neutral, or at least it is for me since my wardrobe is mostly black and gray.
But, the question is going to be fit.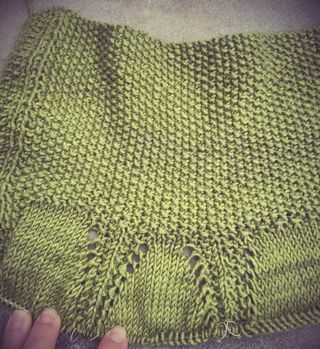 Here are the start of the raglan increases.  The pattern suggests about 30 of them in my size, and yes, I am good on gauge so far.  But since this is top down, I'm going to try to take advantage of the opportunity to try on, to measure me, measure the knitting, measure other sweaters that I like the fit of, and NAIL this one.  Or at least end up with a sweater that fits.
I am not a fast knitter at the best of times (plus the kids do seem to like having dinner on the table at night) and this yarn is a light dk weight.  So this sweater is, in some ways, going agonizingly slowly for me.  At the same time, it's a very pleasurable knit once you establish the rhythm of the border edges and the increase stitches on either side of the sleeves.  And I am apparently a freak of nature because I enjoy knitting seed stitch.  So I'm not in any hurry to finish, although I do want to wear the sweater this spring/summer.
I'll share my progress on this one with you over the next few weeks, although I plan to knit it along with Drachenfels, so expect slow but sure progress.  And please keep me in your thoughts on the issues of gauge and fit.  I'm going to need all the support I can get!