As may of you know, in April, we have a knitalong on the Elliebelly Ravelry Group.  Adventurous April is a chance to knit with old friends, make new ones, and end up with a fantastic finished knitted object, because with the support of this group, you can get all the help you need with your knitting.
We knit for the fun of it and have very few rules.  Our start date is April 1, but you can and are encouraged to gather your yarn and needles, review your pattern closely, and swatch before then.  You can knit with any yarn you like, and since Elliebelly is no longer sold, there will be a few giveaways to make sure those who would like to try it have that chance (see more below).  We have an Adventurous April Chat thread here if you have any questions about joining, the KAL, the patterns, or, if you just want to introduce yourself.
This year, the KAL has three categories.  First, there will be a group knitting Antarktis, Janina Kallio's clever one-skein shawl pattern, which works in any weight from fingering up to a light worsted (I'm thinking about you, Plucky Primo Worsted).  The sign up thread is here.
Next up is the stuffed animal/monster thread. We started out talking about my March Monkey, everyone shared their favorite toy pattern, and in the anarchy that always characterizes our KAL, we've decided to have a "knit the stuffed toy of your choice" group.  The sign up thread is here and it includes lots of ideas.  I'm thinking about the Wild Thing, but am equally tempted by C is for Cat.
Our last KAL sign up option is for people who want to try a new technique, but with a friendly, supportive group around them.  I have always sworn I would never attempt steeks, but with Adventurous April, you never know. Any technique of your choice is the order of business here — a new cast on, first attempts at lace, beading, magic loop — challenge yourself and have an adventure.  Sign ups are here.
To get you started with KAL yarn, we've got a little giveaway.  First up is yarn for Antarktis.  Sign up for the KAL, and then come post here in the replies.  We'll have one drawing Sunday night and then two more on Friday the 20th.  Winners will get their choice from among the new colorways I've been experimenting with — I can't wait to see some of them knit up! (And yes, the deep blue colorway, which is a new one, Homemade Dress, is dyed on the return of Elliebelly's Angel sock yarn if you're after some luxury.)  In addition to those pictured above, there is a glazed gray colorway called Crake, and an edgy gold called Oryx.  If you need a little encouragement to take the plunge and sign up, I hope this will do it.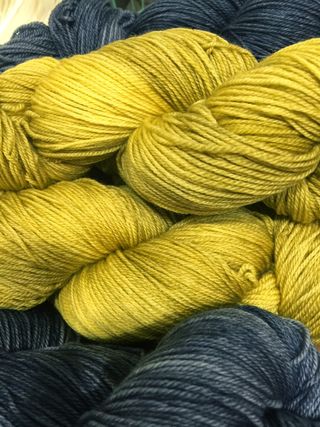 In addition to this giveaway, there will be at least one more with yarn for the stuffed animal category. Come along and adventure knit with us!