It's almost here!  My favorite month, April, when we have the annual Elliebelly Knit Along.  If you've knit with us before, you know it's a little bit of creative anarchy.  This year, we're looking at patterns in four categories: Sweaters, Bulky Hats, Shawls/Cowls, and Socks.  I encourage you to wander over to the group, vote on the pattern choice threads, and make sure you sign up for the KAL later this week when we finalize our pattern choices.
This year, for the first time in many years, there will be plenty of Elliebelly Yarn available for your knitting pleasure during Adventurous April.  I snuck a few things into my Etsy Shop over the weekend (a number of you seem to have found them) and am adding a few more today, starting with the first batch of the incomparable Smitten Fingering 120.  It's a silk/yak/merino blend in slightly oversized skeins of 523 yards for your shawl knitting pleasure.  Five new colorways have been designed just for the Yak blends.  Grinch, Merry and Bell Bottoms are pictured above.  There are is a pinky brown, Linwood Road, and a deep cocoa brown, Llyr, as well.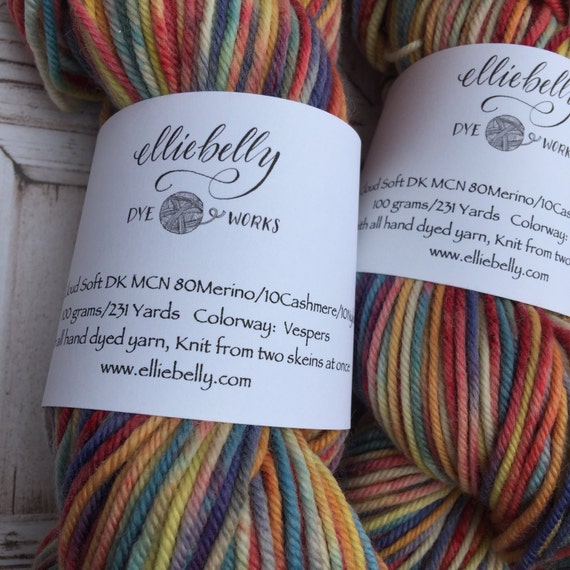 Vespers, a new paintbrush colorway, is also in the shop of a new of different bases.  It looks beautiful knit up, and whether you have a simple garter stitch or stockinette project, or something more complex in mind, it's a winner.  You'll get some amazing results using Vesper for lace, cables, or other patterns with texture.  I hope you'll find something you like!