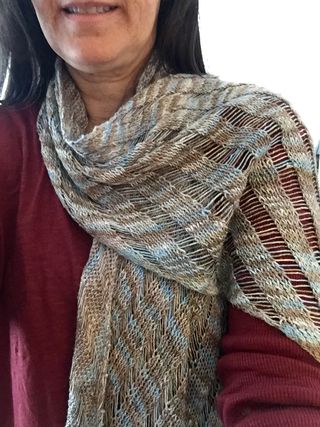 In 2009 I knit a Clapotis out of linen.  To be precise, that is Elliebelly Chemise in the Nassau Colorway.
Every year, around this time I take my summer clothes out of storage, and fall in love Clapotis all over again.  Kate Gilbert's brilliant pattern stands the test of time.  And, in linen, Clapotis is decorative, protective from the sun, a little bit of extra warmth – all as needed.
It's interesting how some knits remain favorites for ever.  This Clapotis, my second one, knit up much more quickly than the first.  It's much smaller and I understood the pattern going into it.  It's very simple.  And yet, I reach for it constantly. 
What knits have stood the test of time for you?  What patterns do you see out there that you think could achieve that status in your knitting?  My other knit in this category is Lida, which I finished just last year, and which I wear constantly.