I'm violating the rule of "one project off the needles means one new one on" this week.  My Frostline is finished, but I've started two more projects.
First, a Zissou Hat.  It's for the Judge for Father's Day.  Ssssh.  Don't tell him (I'm pretty sure he doesn't read my blog).  I've got some lovely red Plucky Knitter Bello Worsted yarn and I've played with the math-fu to convert a pattern meant for a much finer weight cotton yarn.  This probably means d-i-s-a-s-t-e-r, but I'm game.  When finished, it will (hopefully) look something like this.
© Lalla Pohjanpalo
Reminder:  If you haven't seen Wes Anderson's movie The Life Aquatic with Steve Zissou, DO!  Just drop whatever you are doing right now (take along your knitting) and get it on Netflix or Amazon.
Second new project, and still in the swatching stage, is a (hopefully) quick tank top I want to knit for the ballerina before she goes off to her summer program.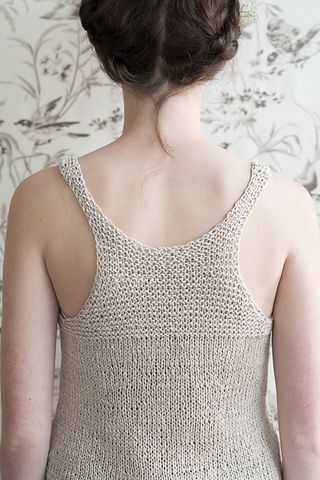 © Quince & Co.
The yarn is a fascinating Linen tape yarn from Quince, one of my favorite yarn makers and definitely my favorite for all things linen.  This will require me to sew pieces together with mattress stitch, which will likely take more time than all of the knitting combined.  I'm already trotting out my mantra: I love finishing up my knitting projects.  Because really, like most knitters, I'm a bit adverse to finishing.  But, having managed to weave in untold ends on my Frostline, I think it was something like 24 ends, this should be cake.