It started innocuously enough, with a couple of pretty skeins that I purchased during a trip to a favorite local yarn store in Tuscaloosa.  I'd never really thought about chartreuse.  It looked like Shrek.  And, my Mom never really liked me in green.  But those first skeins jumped into my cart over the summer, and suddenly that color was everywhere!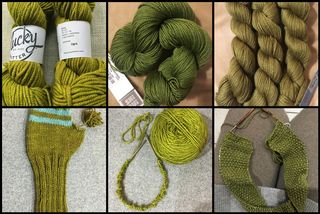 Have you ever developed a color obsession from out of no where?  It's not even a trendy, Pantone scale color for 2015.  It just suddenly caught my eye.  And my needles.
There seems to be no end in sight.  I have some coming for a sweater — slightly different, and in different fibers, than the one I already have in progress.  And a few skeins for a cowl that will likely be a gift for a friend.
I wonder if it's just me, or if everyone picks up color obsessions over time; only it's magnified for knitters and other crafters who work with color.  I would love to hear about your color obsession!