If you are looking for the one skein pattern giveaway, please click here so you can enter!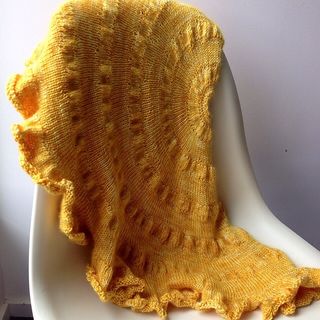 Citron is done. The pattern haunted me for years. In the pre-Ravelry era (yes, I actually remember it), I tried it and couldn't figure out the cast on. Then, I got scared off by the final rows with umpteen zillion stitches. But I finally took the plunge during the Adventurous April Knitalong and finished it up on an airplane earlier this week.
My Citron isn't blocked yet and I'll get prettier pictures when I get a chance, but I wanted to do a quick share. Because, if I can knit Citron, anyone can. If you're on the fence, go ahead and cast on. As I type, my neck is swathed in a cloud of cashmere and silk, perfect for a cool day in the Berkshires. I'm in love with knitting, yet again.