Get your needles ready! On the heels of our one-skein yarn giveaway contest, several of the designers whose patterns were included in the contest have been gracious enough to offer a free copy of their pattern to readers of this blog. Post the patterns you are interested in in the comments below (make sure to include your Ravelry ID or your email address so I can contact you) by Thursday July 17 and we will draw for winners. And make sure you show these wonderful designers some love!
First up, we have Fèe by Tabismiles on Ravelry, knit from one-skein of fingering weight yarn.  Fèe is a beautiful pattern and Tabetha has a lot of great patterns on her website.  I am very taken with this pattern.  Even though I swore off anymore queue additions, it made its way in there.  Tabetha is on Facebook too.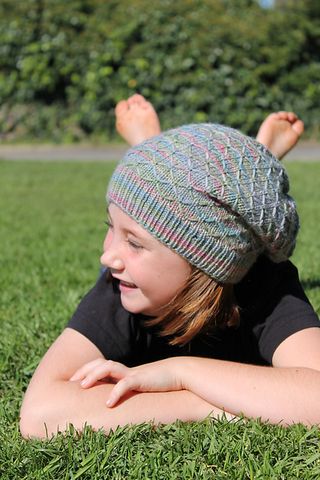 Kelly, otherwise known as Gunard on Ravelry, has this awesome hat pattern called Rainbow Trout (best name ever for a hat).  You should stop reading this post right now and click on the Rainbow Trout link to go see all the amazingly colorful, charming hats people have knit from this pattern.  Kelly has a Ravelry group here and is transitioning to the name Pekapeka Designs.  Her patterns are just wonderful!
Liz Corke has the final pattern of our giveaway (and a brand new baby!) This is Storm Warning and it is so perfect!  It is also knit from one-skein of fingering weight yarn and I have some of my silk-cashmere yarn dyed with black beans to a beautiful gray blue set aside for it.  Liz's website is here, with lots more tempting patterns, and she blogs here.  I am desperately trying to keep myself from casting on Storm Warning until I finish up a couple of projects.
I love all three of these patterns and am grateful to their designers for being willing to share them with us! And, they are the perfect lead in to the next knitalong on the Elliebelly Group on Ravelry, which will start September 1.  It will be our self-indulgent September KAL, and we are in the process of searching around for the perfect one-skein pattern for it.  Whether you've knit with us before or are new to the group, please stop by and check out the KAL thread.  There are lots of amazing ideas for a pattern, but we're going to have to narrow them down and make a decision by the end of the month so we have all of August to gather our yarn and prepare.  We would love to have you join us!