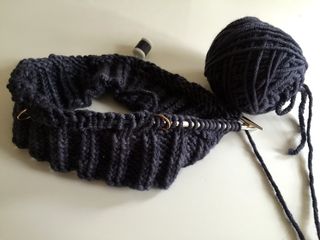 This is the start of my Nevermind hat, which took all of two days to knit.  In addition to being a delightful pattern, this is my first finished object using yarn from The Plucky Knitter.  The yarn is called Snug.  It is a bulky blend of merino, cashmere, and alpaca.  And it is heaven.
The finished hat is warm and cozy.  The yarn is so soft — it seems to bring out the best of each fiber and produce a dense knit that seems unlikely to pill.  Make sure you block this yarn to bring out its fabulous drape.
I've put in my order for more Snug to make sure I have the pleasure of knitting with it all winter.  In one quick hat, it became my new favorite yarn.