I'm having one of those "cast on all the things" weeks.  I like weeks like this — sad about the demise of my Flyaway Hoodie (at least until I figure out the proper size and needle size and cast back on), I decided to start several smaller projects so I would have some instant gratification and knitting always ready and at the go.
(1) The Nevermind Hat.  Cute Cables.  And oh my goodness, the yarn!  My first project with The Plucky Knitter Snug, a mix of merino, cashmere and alpaca and I want to marry it!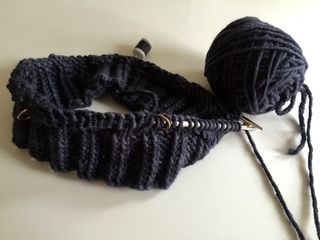 (2) Olivia.  I need a wrap like this so much!  Something to wrap around myself on a cold winter's morning and relieve the tedium of all the black I wear to work!  Olivia is going to be beautiful (if I can just get my gauge right for creating the perfect warm but slightly drapey fabric).
(3) Wilde.  I like this cowl.  It has (subtle) stripes.  I don't know how to knit stripes — I always get that funny uneven jog when knitting in the round.  So this time I'm going to buckle down and figure out the jogless stripe trick that every other knitter in the world already knows. 
A word about this yarn: It is Blue Sky Alpaca's Metalico and I really love it.  I purchased it for another cowl, but it was too lacy and not the warm neck hug I wanted.  I think this pattern will be a better fit for me as the polar vortex descends on Alabama again.
I love starting new projects and that comfortable feeling of projects all ready to be picked up on a moment's notice for a night of happy knitting.  I still plan on casting on at least two more projects before the end of the year, this capelet and this skirt, as well as starting over on the Flyaway Hoodie.