Don't you hate it when life gets in the way of your knitting?  I say that jokingly, but it is exactly what has happened to me for the last two weeks.  Between being super busy at work and getting kids set up for the summer, I confess I haven't so much as thought about blogging and haven't had much time for knitting either.  My biggest accomplishment is that Vodka Lemonade now has a body. I hope to start with the sleeves this weekend.
I've just picked up my Drachenfels again, and want to finish the first section this weekend and move onto the stripes in the middle.  It's knit in the Plucky Knitter Cashmere, and it's really soft.  I pet it as much as I knit it, which is to say I'm really enjoying it.  I'll have pictures for you by the end of the weekend.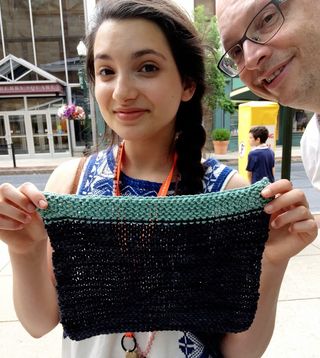 The only other knitting I have to show for my two weeks of crazy is this one-day washcloth, which I knitted for this precious child before she started her summer ballet program out of some sense that when she used it every day, she would be reminded of how much she was loved.  You can see the skepticism on their faces — clearly they don't believe a simple wash cloth can do that, but I'm pretty sure I'm right here.  The wash cloth idea came from a kit my wonderful local yarn shop, In The Making, put together. The kits consist of a skein of Blue Sky Alpaca Cotton — the gray you see here — matched up with several different mini-skeins of perle cotton for the trim.  I didn't follow the pattern, but instead made a huge oversized cloth for the ballerina.  I'm going to use what I have left to make a few more for home.  Donna, the owner of In The Making, is always putting together these cute little practical kits and I feel so lucky to have such a great store just a few minutes away.