'Tis this season.
Or, no.  It's really not the season.  September in 'Bama is definitely not hat season.  But the mornings have been chilly, which gives me hope of sweater weather ahead and makes my thoughts turn to knitting that I can wear as soon as it comes off the needles.  So, I thought I would recap some of my favorite knitted hat projects today and help everyone with some start up ideas for hat accessory knitting.

Deux by Lisa Mutch is such a simple knit that even a novice knitter can manage it.  And, it's quick because it's knit in Bulky yarn.  I did this version for our trip to Iceland last year and loved wearing it.  In the world of quick, satisfying knits, Deux is the king.

Nevermind, by Melissa Schaschwary, also knit in bulky yarn, is a simple, addictive cable pattern.  I've knit it twice and both times I enjoyed it so much that I didn't put it down until it was done.  Have a couple of football games to watch?  Knit a Nevermind.  The Plucky Knitter's Snug Bulky is the perfect yarn for this hat.

My Lutz Jump Hat is such a marvel!  Its cables are complex, but not too difficult to conquer for an advanced beginner.  Monika Sirna's well-written patterns are always a pleasure to knit and this one was no exception.  I used Malabrigo Worsted Merino.  It was the perfect yarn for this hat.  It's fluffy and the colors are rich.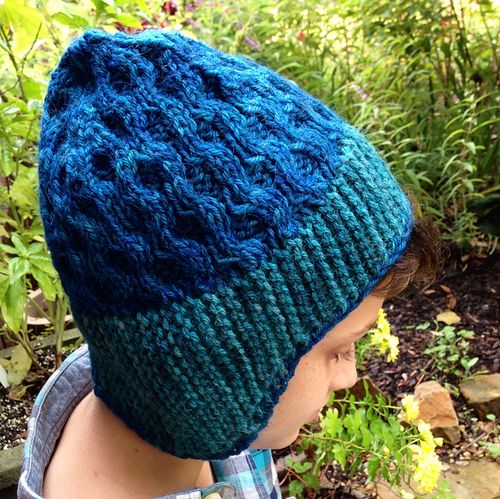 Honegart by Stephen West is such a feel good knit!  I dyed the yarn for it myself and enjoyed watching the honeycomb patterns take shape.  The construction is interesting and the result is a hat you feel proud to say you've knit.  It made me feel accomplished and kept a child going to school up north warm.

We are crazy Wes Anderson fans in our house.  We love all of his movies, but especially The Life   Aquatic with Steve Zissou.  I had to knit my darling husband (the hat is modeled here by one of the kids), the ubiquitous Zissou hat that was worn by all of the crew members in the movie.  My version is in a light weight worsted yarn that knit up more like a dk weight yarn.  It's got a delicate swirl pattern in the decreases that's fun to knit.  There are several interpretations of this hat on Ravelry, but I thought Lalla Pohjanpolo's version came the closest to what I wanted and it was easy to knit.
You can never have enough hats.  Never ever.  My Ravelry queue, which I try to limit to patterns I seriously plan to knit in the next year, has 15 hats in it.  Four of them are in my short term plans for knitting, including Northport, Greystone, Happy Thoughts, and Howzat.
Are there hats in your future?  I'd love to see your thoughts in the comments with links to hat patterns you've knit or are planning on trying out.