2010 was the year of the big, bulky, and very definitely knit from cheap acrylic yarn, cabled throw.  Pottery Barn had them. Restoration Hardware had them.  Pretty much every store or designer showroom displayed them as the accent piece in model rooms that I, with four children and multiple pets, could only dream of having.  Perhaps the cheap acrylic was even a response to people in my situation, but it surely wasn't coming to live in my house.  So I started out with this: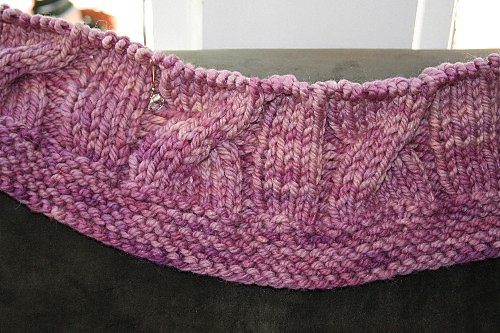 Coming up with a simple cable pattern with a garter stitch border wasn't rocket science.  And, I had gotten my hands on a fabulous silk/alpaca/merino super bulky yarn blend, which was a wonder to dye.  I set aside a large batch of it for myself and set to work.  I ended up with this.

It was very simple, but it made me very, very happy.  It was perfect for cold winter days and snuggling with children.  A lot of people asked about the pattern and I kept meaning to do a write up, but I never found the time, even though I had kept meticulous notes while knitting.  Even if I had written it up, I was no longer dyeing yarn for sale, and wouldn't have a yarn to recommend.  The first time I knit with Plucky Snug Bulky, this afghan came back into focus.  It was the perfect yarn for it.  A similar blend, with a similar soft but bulky quality to it.  So, this:

A friend who is a much more technically savvy knitter than I am is knitting it up and making sure my pattern makes sense (I bet she'll put in a few bells and whistles before she is done).  The color is called Happy Camper and it's a stunner! Before the pattern's release, we will put in tips to make techniques like the cables and alternating yarn skeins easy enough for even a new knitter to take on.  It will be a free release.  I'm hoping you all will enjoy it!