There is nothing as much fun as realizing, the morning of Christmas Eve Day as you're getting up to cook dinner for 15 of your most cherished family members and friends, that you are sick.  The denial of the past few days hasn't worked and you have that I-Really-Shouldn't-Be-Out-Of-Bed sick feeling.  But there's nothing to be done for it, and because of a wonderful doctor who was open that morning and kind enough to provide me with shots and antibiotics for the mush that had become of my head and chest, we managed to have a lovely dinner.  I won't bemoan the fact that I didn't individually wrap all of the kids presents, because that just wasn't happening, but my lovely family graciously made me cup after cup of tea with honey in it yesterday, and didn't so much as utter a word of discouragement as I spent the day on the couch, sleeping and knitting.
I did manage two feats of very simple knitting over the last few days, finishing the Forest Park Cowl that has been languishing in my WIP pile for several months and coming up with a way to resolve the Moto Vest issue.  Because I'm sick, you get the worst of all possible finished object photos: indoor, late-night selfies.
The Forest Park Cowl (left) was a lovely, straightforward knit in a very pleasant cabled pattern.  I started this cowl so I would have it ready and waiting for airplane knitting months ago, but after doing the set up, never picked it back up until earlier this month.  When I started it, I was still using a cable needle for cables, but by the time I got back to it, I had learned to cable without a needle.  So I'll just repeat, as a friendly reminder here, don't be afraid to lose the cable needle.  Do use the wonderful video Jody (Grannyknits4U on Ravelry) put together on learning to do this, which will make you a master of this fine skill in under five minutes.  Go forth and conquer!
The Moto Vest (right) was a completely different story.  It's knit as a scarf, with stitches picked up center back and used to form the vest part.  Although my gauge was spot on, the finished vest looked nothing like the photos on the pattern layout.  It was skimpy and awkward, and I had one of those moments last weekend where I realized I was never going to wear it.  So I sat down and frogged it back to the scarf.
After a brief moment of panic where I thought the stitches across the middle that had been picked up to add on the vest were so stretched out of shape that I would have to frog the whole thing, I reminded myself that blocking worked miracles, and carefully, so as not to get the needles wet, engaged in some strategic blocking.  It took a bit of care, but by yesterday afternoon, everything was dry and ready to go.  I took out the cast off edge and added another 24" to the length of the scarf portion and then mattress stitched the whole into a large, bulky, infinity scarf.  The result is infinitely more pleasing than the vest and ever so lovely and squishable.  This may be my favorite color of all time from the Plucky Knitter, Bohemian Blue.  I'm glad I took the plunge on this one — I'll wear it over and over again, if only I can keep it out of greedy teenage hands.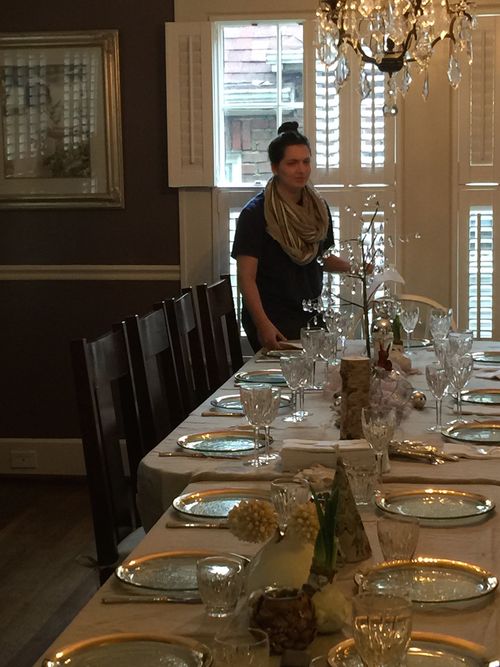 Those greedy teenage hands are likely to get whatever handknits they want at the moment, though because I got tons of uncomplaining (despite the fact that she didn't want to be photographed) help with Christmas Eve dinner and set up.  She makes the most incredible homemade mac and cheese too!  Whatever holiday you celebrate at this time of the year, I hope you've had a happy week.  I'm looking forward to knitting into the new year with you!