I love Antler.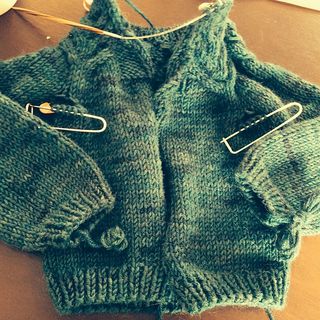 I am easily amused and still new enough to the sweater construction of knitting the sleeves, then knitting the body, and then knitting them together in one massive all-the-way-around row during which, magically, the sleeves align leaving you with just a few stitches in the underarm to graft together at the end of the knitting, that I find the whole process enchanting.  And I love cabling, even these simple little cables. They are delightful as they blossom in the yoke with repeats all around.
As for the nitty gritty basics of this sweater, I am surprisingly in love with the baby camel yarn, which has a hairy aura and is very soft.  I'm hoping to have enough left over to do a sweet little hat.  This is my first knit on my new Darn Pretty knitting needles.  I will rave about these needles at length, in the future.
The actual color of othe yarn is darker than in the picture above.  This one is more accurate and shows the darker accents (low lights?) in the yarn as they appear in the WIP.
I can't wait to finish it and send it on to the new mom who it is intended for, with lots of no-rinse wool wash included in the package.  This sweater is in the 1-2 year size, which is generous, and here in the south, it's heavy enough to be outerwear for at least the fall and perhaps on into winter.