Happy 2017!  It's a new year, full of new promise.  In my case, that's knitting promise.  This is the year I'm going to finish my impossibly complex fairisle sweater, I'm going to knit with all of my cashmere this year, and mostly, I'm going to have lots of fun doing it!  And, to get things off to just the right start, I have a new Elliebelly yarn to tell you about.  I like yarns that combine silk with wool.  It has to be just the right amount of silk: shine and softness, but enough wool that the yarn is still cushy and has great stitch definition.  And, of course, it has to be the right wool.  I've been lucky enough to have success with some silk-involved yarns over the years.  But I've had difficulty finding just the right worsted weight single-ply.  That is, until now!  I've finally found it, tested it, and fallen in love.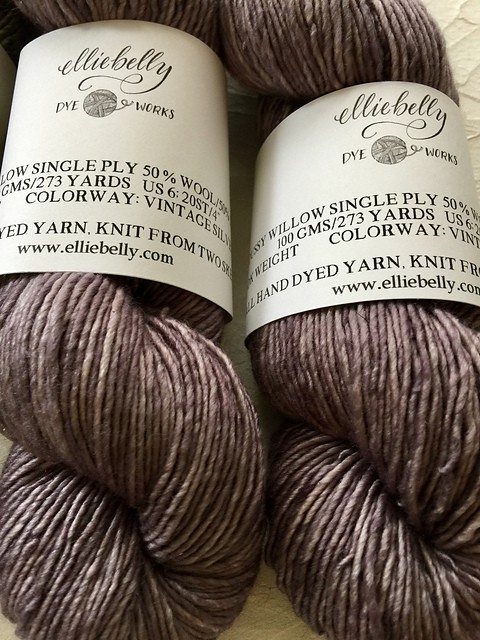 This is Pussy Willow, 273 yards a skein, worsted weight, and I'm hopelessly in love!  It's got a nice tight twist — essential in a single ply yarn.  You'll see it kink just a bit in places, which is exactly what you want to insure it will knit up nicely.  And color.  Wow!  Color is the real reason I like having silk content in a yarn.  Yes, it does soften the blend, but it's real virtue is the way it makes color so intense and beautiful.  I've dyed it up in several colorways and it never has a bad hair day.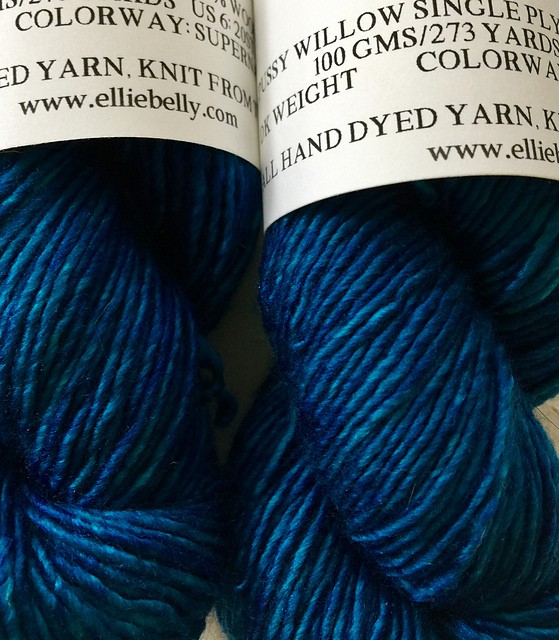 I am really looking forward to knitting with Pussy Willow this year!  It has so much potential.  I'd like to have a basic cardigan in this yarn, but also, I'm thinking it may want to become a cabled scarf, a chic little cowl (maybe in the new Grimoire colorway), and a pair of very fun, soft mittens.  Endless possibilities with this one!  I hope you'll fall in love with Pussy Willow too!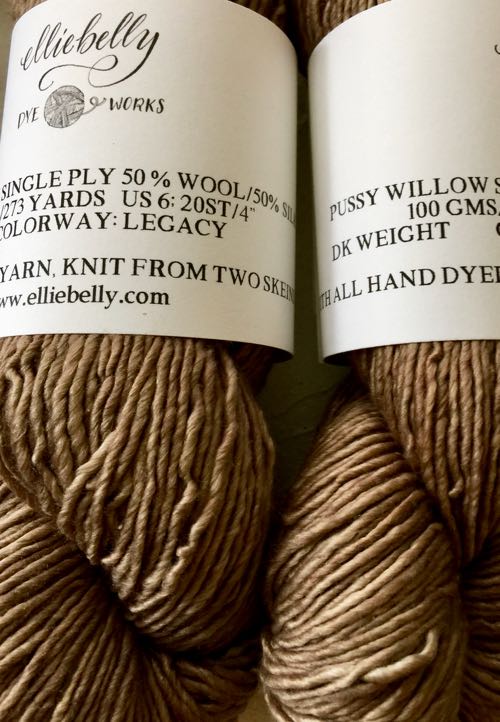 All of these colorways will be available in our first shop update, when Elliebelly reopens this month.  But just a word of warning, because I'm a very small, one woman dyeing operation, like all Elliebelly yarn, it will be available in limited supply.  To stay in touch and be the first to know about the details of our reopening store stockings, take a moment and sign up for our newsletter, in the box at the top of the page.