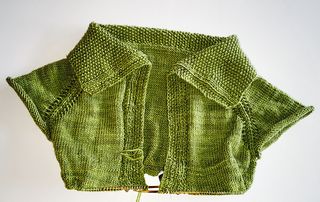 No, it's not an alien mutant or a sweater for a small elf in Santa's workshop.  It's the adolescent phase of my Vodka Lemonade.  It looks a bit wonky, with the collar unblocked, the sleeves partially done for later pick up, and only a couple of inches worked on the body.  But it's P-R-O-G-R-E-S-S and I'm really happy with it.  I'm hoping that it will blossom as I get a bit more work done and become the sweater of my dreams.
On the plus side, this color, The Plucky Knitter's Fiona on Crew, is everything I could have hoped for!
My decision to alternate two skeins was a good one.  The yarn has just enough variation that not alternating would have been an issue.  I think it might have been even better with three skeins in the rotation.  It has been relatively easy to get a nice, clean, edge, carefully bringing the alternating skeins up the side of the project.  And the color looks lovely knit up like this!