I am picking up stitches. 236 of the little suckers, to be exact, because I've fudged my Arlo to make it a bit bigger to fit Ollie's measurements.
I am not a huge fan of picking up stitches at the best of times, and because the spin on this yarn is rather loose, it's testing all of my pick-up-and-knit skills and patience.
As a bribe for good behavior, I gave myself permission to swatch for the Wolly Wormhead Hat KAL.  I'm excited to be knitting with the first yarn I've dyed for myself in ages, despite the fact, which I've noted earlier, that I seem to find it impossible to get an accurate photo of yarn in the turquoise blue range on my iPhone.  I'll have to pull out the big camera this weekend. Not to brag or anything, but I got gauge on the first go round.  This rarely happens for me and I am delighted!
Even though I wasn't happy with the result a few rows in, I decided to continue swatching with two skeins of the Plucky Knitter's worsted weight cashmere yarn, Cachet, for a Forester pullover. The colors are Bohemian Blue and Fisherman's Wharf, and they look nicer together, now that I'm further in.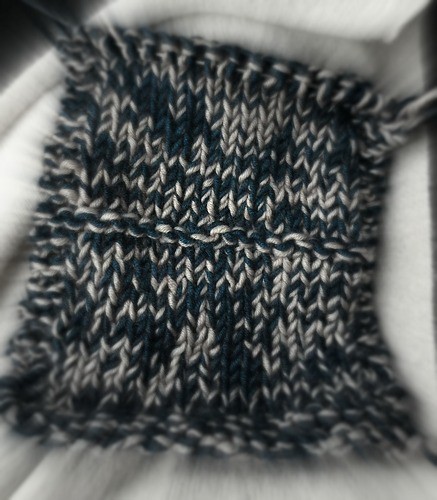 I'm still not 100% on this combination and am going to try a blue/black combination to see if I like it better. I definitely want a big, bulky cashmere turtleneck to keep me warm this winter!
That's all the time I get away from picking up stitches.  Wish me well!