I love fall.  It makes me happy when the trees have that golden glow and the weather turns cooler.  So, I thought I would catch you up on what has been happening here on this first true fall weekend.  
My handsome young man got a hat trick in his soccer game yesterday.  Allow me the Mommy brag.  He's the youngest of four, and doesn't always get the attention he deserves.  He is, however, getting the sweater of his dreams.  He picked out the yarn, the color and the pattern, and the pieces are blocking so I can do some seaming when I get a moment.
Although it looks like a mismatch, it's okay.  Don't panic (that's what I had to tell myself)!  The fronts are being blocked for the first time, while I'm just opening up the side stitches on the back to make the seaming easier.  It should all work out okay as the fronts will shrink back down a bit once they are released.
This reminds me, because a couple of people have asked, to show you how I keep my ballwinder and skein set up so they are ready to be used anytime I want to wind yarn.  I've got them on an old bookcase, with a low stool nearby so I can sit down while I wind.
I also started swatching for a marled turtleneck yesterday.
I'm not a fan of these two colors together, but am going to try and find some black or dark gray yarn to work with the blue, because I want to envelope myself in a huge, soft turtleneck and keep it on all winter!  Preferably in cashmere.  But not these two colors together.  Just not feeling it.
Finally, I dyed a little yarn for the Wooly Wormhead Hat KAL, which starts November 1.  It called for a solid, aran weight yarn, and I didn't have anything on hand.  Since I've been obsessed with deep, turquoise blues for the last several month, I pulled out my notes and dyed the Margery colorway I did last year when Mommajnine  knit these gorgeous socks for me.  Turquoise never seems to photograph well for me, and this color is a bit different that in the photo.  It's richer, brighter and deeper and I'm in love.  I'm really glad I did a couple of extra skeins so can have a matching scarf.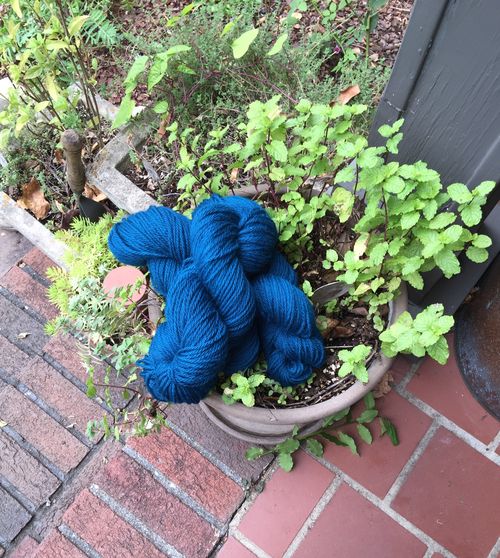 I  hope you're having a great weekend too, whatever you're up to.  Enjoy fall!