Any yarn dyer will tell you: it's an addiction.  On a beautiful, sunny, Saturday morning, dyers will jump out of bed and get to work.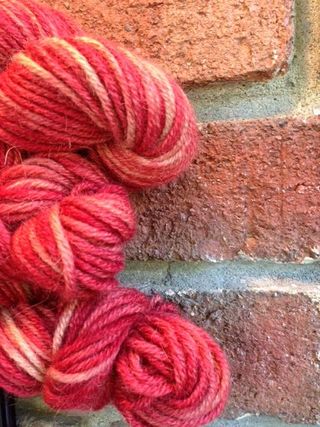 Even though dyeing yarn to sell at the moment, my desire to dye yarn has never disappeared.  And I've had a lot of freedom to experiment with yarns, colors and processes.  One of my early experiments was with some ridiculously expensive but incredibly soft and beautiful Baby Camel yarn, in an 8-ply aran weight.  I loved the yarn, which I dyed up in baby sweater skein quantities for myself.  It's delightful.
I've been happily knitting an Antler Sweater from this yarn, so I was excited last night, when I went to pull some summer clothes out of my cedar closet, and realized there was a box of yarn I had dyed for myself tucked behind them.  (I feel horrible for my children — I have more stash than I can knit with in this life, and I know that after I die, they will be stuck having one of those horrible estate sales and trying not to laugh at the huge quantity of yarn I dyed for myself but never got around to knitting).  My favorite colorway in the box is this:
The colorway is Old Brick, dyed on Baby Camel yarn.  What a fantastic surprise to rediscover it, along with all of it's other "friends" in the box.  Even if I never get around to knitting with all of them, it's nice just to fondly pet them and look them over.  Sometimes, a dyer just has to dye.  That seems to be the case for me, especially in summer, with perfect weather and lots of inspiration!