This is Part Two of my tutorial on dyeing yarn with black beans.  Take a look at the preceding post to see the steps involved in preparation of the dyepot and the mordanting the yarn.  
We're at the stage where we are reading to dye the yarn.  Remove the beans from the liquid and skim any foam that has accumulated of the top of the liquid, the pour it into your dyeing vat. 
Here is our bean bath, all ready to go.  You'll notice that it is pinkish — dripping some of the color onto paper towels gives you an even better idea of what you can expect from the dyepot.
Since this looked a bit on the pinkish side, and I wanted to bring out the blue-green tones in the dye, I mixed a solution of soda ash and water to use in the dyebath.
First, I gently immersed the yarn in the dyepot.  If you want even color, you could gently move the liquid through the skeins for even coverage.  But because I wanted some light variegation, I carefully placed the skeins in the pot and ensured they were covered, but made no effort to distribute the dye.  I've got all three skeins of yarn in this one pot.
In a bit of dyeing magic, I poured the soda ash solution over the top of the pot and there was an instant color transition.  That process continued as the yarn soaked over the next 12 hours.
Here we are at the end of the dye bath, ready for removal and rinsing.
I very gently rinse the yarn, and then soak it in successive baths until the liquid is completely clear.  Three baths did it for this yarn, but I did a final soak in synthrapol, a dyers' soap that removes any loose dye molecules at the end of the process, before reconditioning the yarn.
Here are my three skeins, hanging for a final bit of sun after resekeining.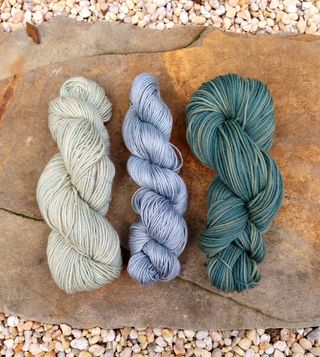 The skein on the left is the Malabrigo.  It's a pale green, the yarn has more color than the photo.  The middle skein is the Panda silk/bamboo blend and the skein on the right is the Pixie superwash wool. Dyeing is always a subjective process, influenced by a lot of external conditions like temperature, water ph, and concentration of dye.  But in natural dyeing, the results seem to be even more variable and very exciting.  I can't wait to knit with these skeins!
Natural dyes are notoriously migrant, meaning that the dye can fade with exposure to light and washing over time.  These skeins were well mordanted, but I'm going to do a little bit of experimentation with their light and color-fast properties to see how they do.  I hope you'll try some natural dyeing too.  Please let me know if you try it and what your results are like.  You really can't go wrong.