Look at Monkey's cute (although sort of creepy since it's disembodied) head.  I decided to stuff it, even though the pattern doesn't direct me to at this point, because it seemed like it would be easier now, without having to navigate up the body through the tight neck.
There are a lot of comments about the Monkey Jacobus pattern from people who had difficulty knitting it, I'm finding it to be very straightforward and easy to follow, at least so far.  It's also a lot of fun.
The purl ridge across Monkey's face is the starting point for picking up stitches and adding on a big sock monkey-esque snout.  And the little bars on the side of the head, I am guessing, are where the ear stitches will be picked up.  Can you see the vertical ridge of purl stitches below?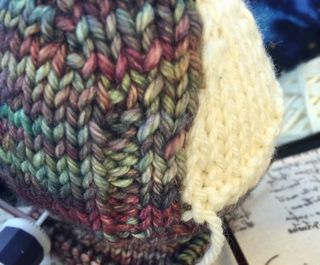 You can follow along as I knit my "March Monkey" project here, as part of the Malabrigo March Knitalong.
Although Monkey is my first knit stuffed animal, he is not going to be my last.  There has been an outbreak of stuffed animal ideas on the Elliebelly Ravelry group as we discuss our Adventurous April KAL. There are cats and bunnies and all sorts of wonderful things, and I don't think I'm going to be able to keep myself from knitting all of them.  If you're interested in joining us, we would love to have you.  It's always a fun KAL in April.