And just like that, it's finished.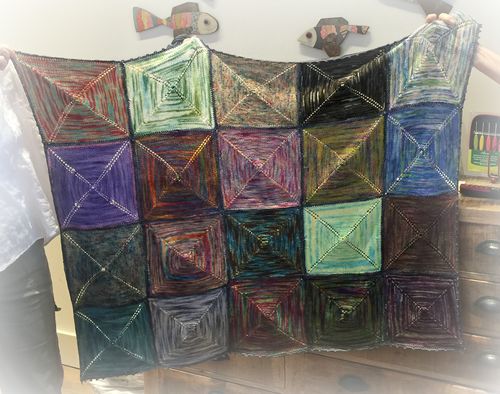 My notes say that I started this project on October 6, 2008, which was a lifetime ago.  I had no idea that six months later, I would luck into the job of a lifetime; demanding, wonderful, fun, consuming, and definitely not conducive to turning out an afghan, knit from sock yarn (seriously, sock yarn? what the hell was I thinking?), in a few months. I had several slow knitting years in there where I was lucky to knit a just a cowl or a scarf.  But, my goal all along had been to knit this for my daughter and give it to her before she went off to college, so I knew I had time. I decided to get serious about it late last year, and recommitted myself to knitting squares. The squares were great airplane knitting. I knit them in Washington D.C., San Francisco, and Jerusalem.  I knit them during football games.  Roll Tide!
The squares are really the story of my adult knitting life.  The early ones are a little wonky.  I missed a yarn over or did something funky with a stitch in some of those early squares, and didn't notice, so you can see the mistake in the final quilt.  I ran out of yarn in one, and had to do the last couple of rows with a different yarn.  The most recent ones are more technically proficient, but still have the loving look of handmade.  About half of the squares are knit with yarn that I dyed, and others with remnants from favorite socks or other projects.  There is one preternaturally neon square that sticks out.  Some of the others look more beautiful combined together than they do individually.  It is, after all, a barn-raising quilt, meant to be a collection that comes together with meaning, and I hope it will have just that for my sweet child as she ventures out into the world.
One final note.  I don't crochet.  I really don't.  But, I wanted this quilt to have the beautiful crochet edges I had seen on another project years ago.  My sweet local yarn store owner did that part for me.  She took hours, and hours, and hours to do it.  It is beautiful and perfect.  The picot edges are so incredibly pretty.  What could come together in life without friends?  Certainly nothing in mine!